Polaris Transportation Celebrates Anniversary of Student Leadership Development Program
July 26, 2016
On Wednesday, July 20th a select group of dignitaries gathered at Polaris Transportation to celebrate the one year anniversary of the collaborative association between Polaris Transportation and each of the Ivey Business School at Western University and Lazaridis School of Business and Economics of Wilfrid Laurier University. The Leadership Development Program has attracted some of the top undergraduate business students to apply their class room learnings in real-time, to help solve critical business opportunities and challenges for this Mississauga based transportation and logistics company. Marrying up these exceptional students with a real life work experience has proven to be an excellent opportunity for all involved.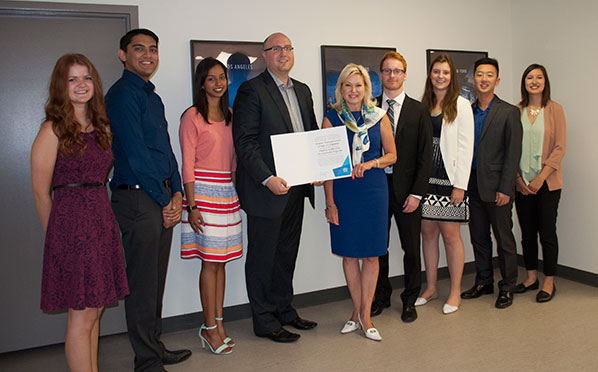 Jon Saunders who holds dual roles as VP of finance for Polaris and also heads up their logistics division as CEO comments, "It's a great feeling to witness what seemed to be a good opportunity turn into an invaluable experience for our students and our company. Bright minds with fresh thinking placed into a work environment that embraces innovation and making things happen has led to unprecedented successful outcomes – for customers, suppliers and fellow team members. Taking a moment to celebrate this program and these students with local business and community leaders proved a well-deserved recognition for these future industry leaders".
The Mississauga Mayor, the Honourable Bonnie Crombie, spoke at the event and along with current program students and Polaris management, attendees included:
David Wojcik – Mississauga Board of Trade, CEO
Steven Laskowski – Ontario Trucking Association, President
Steve Rhone – Weston Forest Products, President
Paul Murphy, Catherine Courson – RBC
Jenny An – General Electric, Campus Lead
Laurie Lahn and Lauren Rafferty – Wilfred Laurier University
Karan, Thanuzgha, Mary, Mike, Christine, Kevin and Nicole – Current and Alumni Program members
Sharon Irwin-Foulon, Executive Director at Ivey Business School explains further, "Polaris has a strong employment brand at Ivey that resonates with ambitious millennials. Students recognize that this leadership development opportunity offers a real level of responsibility early, true development of their talents and an opportunity to see the impact they have on an organization. This is an association we are proud to be part of".